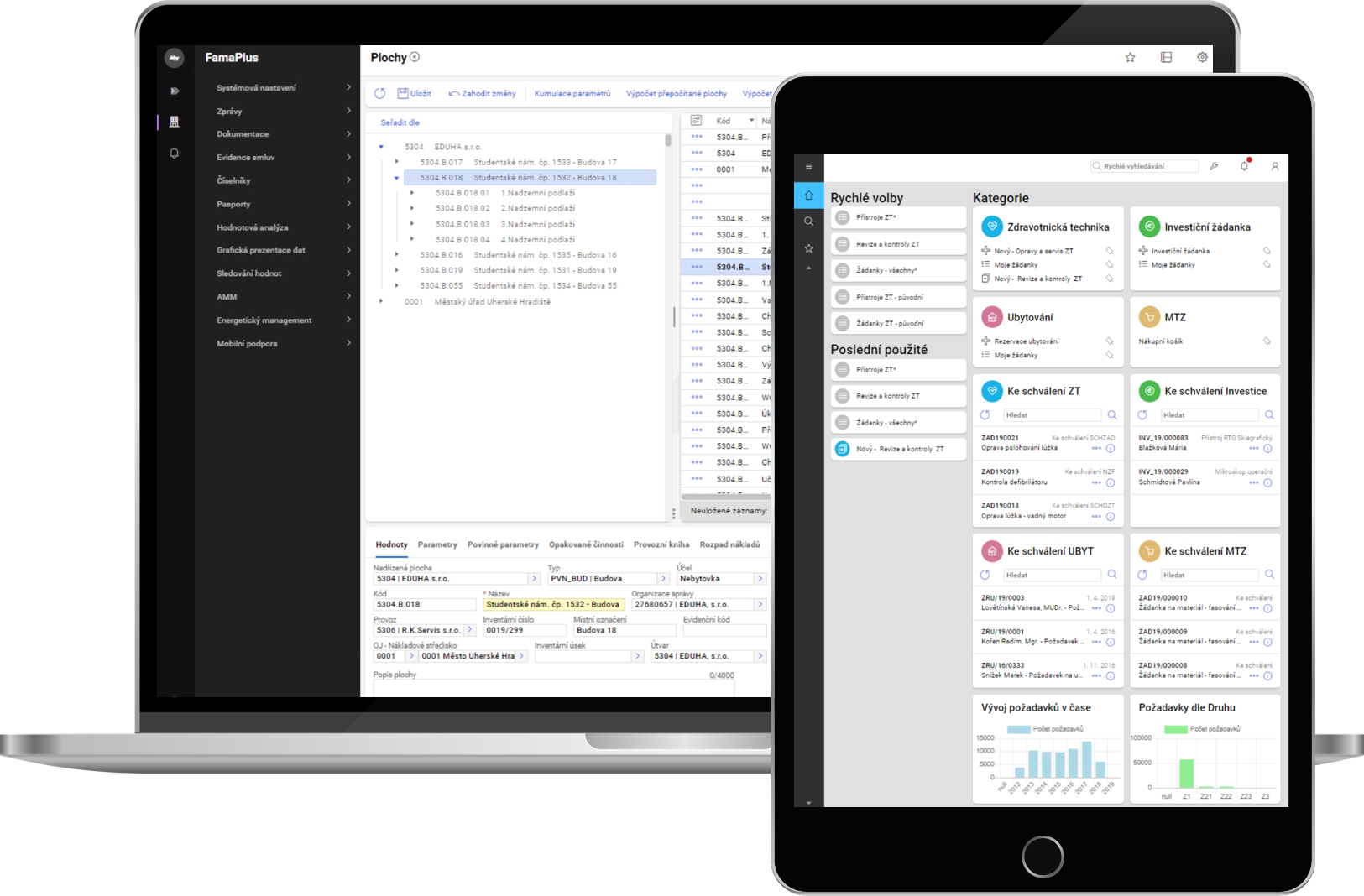 Information System FaMa+ AM provides a comprehensive and coordinated management of the entire asset lifecycle. It combines economic-financial, technical and proprietary view of the assets with the aim of achieving greater efficiency, cost savings and transparency in its administration.
FaMa+ AM is designed for public administration organizations.
Functional properties of module Personnel records module:
Management of electronic documents associated with a worker.
In relation to spatial records and graphic presentation displaying the location of the worker in the drawing documentation.
Keeping work records for a worker.
Manage external electronic documents.
Recording all actions related to the worker (e.g. register equipment which is at the worker's disposal).
Graphic visualization of the query results based on user selection criteria (affinity of workers to organizational units, etc.).
Together with other modules (Lendings, Technical records, Requests, Work orders) registration of all events related to the worker ( on equipment which is at the worker's disposal, on articles borrowed, on passed trainings and instructions, etc.).
Registration and management of employees' personal cards and concluded work contracts (link to personnel, various certificates, education attained and final exams, expert tests and their validity, registry of health checks and their validity, etc.).
Monitoring the whole process of the employee's functioning in the company – entries and exits, changes in the work or wage classification (all with an option to register the date when the change took place).
Modification of the employee data – the entire system focuses on easy and unified editing of items.
Creation of custom reports, outputs and statistical overviews.
Mobile application module Stocktaking
Supplementary Stocktaking mobile application for users who are responsible for processes related to assets inventory, especially inventory control in the field.
Loading baseline data from FaMa+
Easy implementation of inventory
Information about inventory and related assets at hand.
Easy implementation of inventory using a barcode.
Clear application graphic design, intuitive operation.
Direct link to the information system FaMa +.
Ability to work with applications in both online and offline mode.
Architecture of FaMa+ AM is designed as three tier, when individual levels are mutually integrated into functional whole:

presentation layer: MS Silverlight
database layer: Oracle or MS SQL Server
application layer: MS. NET
Regional Authority of the Olomouc Region
Regional Authority of the Central Bohemia Region
Regional office of the Liberec Region
Regional Authority of the Pardubice Region
Regional Authority of the Zlin Region
Palacky University in Olomouc
Municipal Authority of Uherské Hradiště
Statutory city Havířov
tř. Kosmonautů 1288/1, Olomouc
tel. +420 587 333 405
www.tescosw.cz