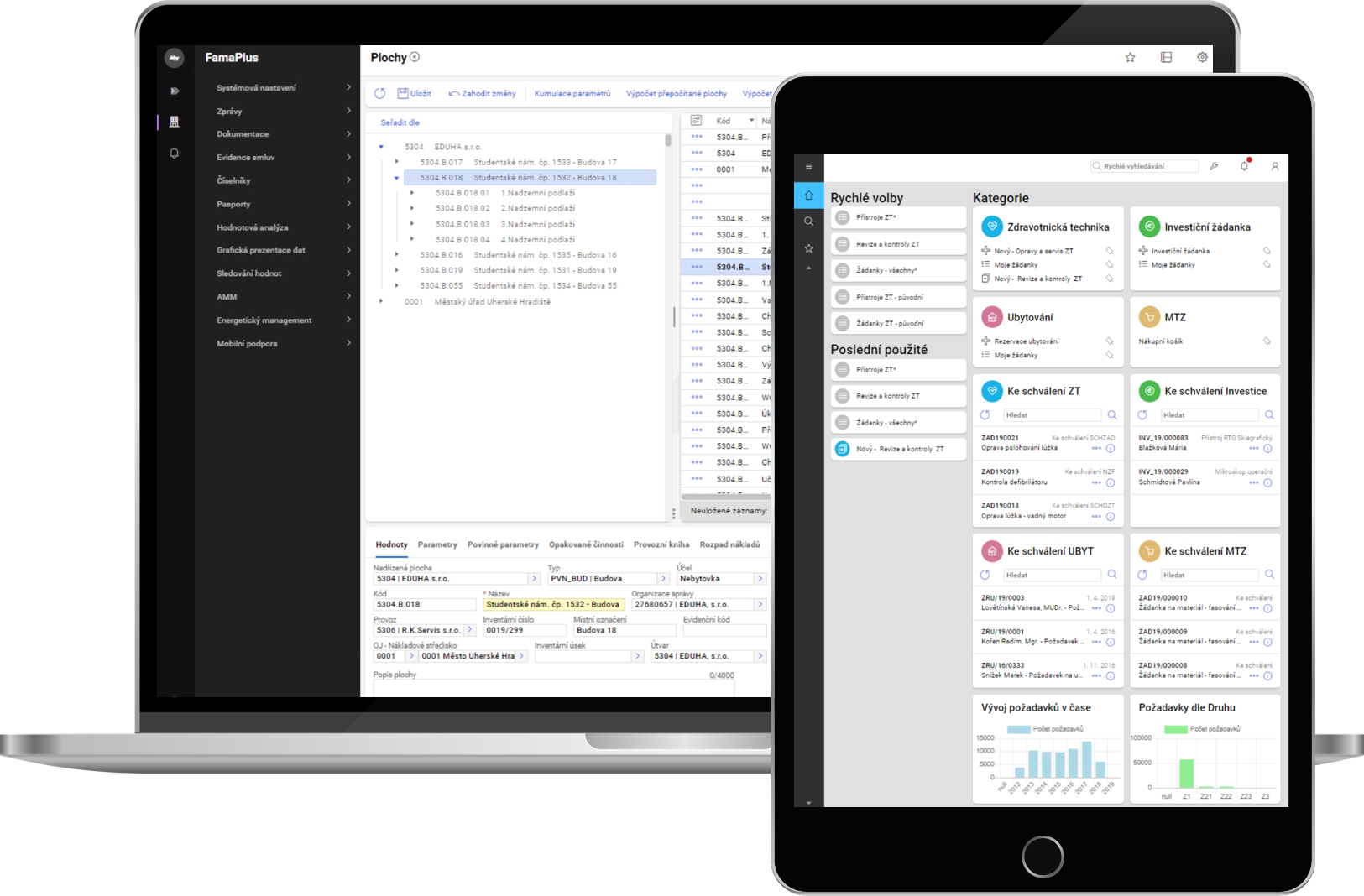 Process and data integration through FaMa+ EAI
FaMa+ EAI is an "Enteprise Service Bus (ESB)" type product supporting continual building of Enterprise Architecture Integration (EAI) within the organization. The core of the solution is Microsoft BizTalk Server technology.
The product supports internal and external process and data integration of individual systems in organization. It is primarily based on web services and has a wide range of connectors. The solution includes a modern web application interface for easy and user-friendly administration of the entire solution.
Main benefits of process and data integration
Modules for process and data integration
The ESB module links not only the internal operations within the Organization, but it also connects it with the outside world. It connects and mediates all communications and interactions between individual applications and system services. It enables these services and processes to be quickly changed, easily connected, made visible and administered.

Example:

Your HR manager introduces a new employee to the personnel system. You also need the same information and more of it for the attendance system, payroll system, economic system, request management system, phone book on the web, etc.

How do you solve this? Are you really manually entering data into each system separately? What is the probability of a typo? And what if the data changes over time? And what if you have hundreds or thousands of those employees? Again, will you edit this data manually in all the mentioned systems?

Isn't it better to connect your existing systems to one integration bus and let the computers work for you quickly and flawlessly?

You may be thinking that you already have Identity Management for this, but what about data on customers, citizens, invoices, orders, complaints, claims, insolvency proceedings or bank transactions? In other words, where identity management ends, we begin.
On-premise software supporting comprehensive management and maintenance of buildings and technologies, administration of lease relations, repairs & reconstructions works and related services.
Information system supporting prediction, monitoring and evaluation of consumption costs for all energy kinds with the goal to efficiently manage energy resources and gain cost savings.
Management of public assets
Information systems tailored to fit the needs of public institutions in comprehensive management of the entire life cycle of assets with the aim of achieving greater efficiency, cost savings and transparency in its management.
Modular solutions to ensure comprehensive management of technical and operational support processes in hospitals and other healthcare intitutions.
Robust yet modular solution for managing any IT service.
Financial and acounting agendas
Information system for administering finance and accounting within the organization.
Akcenta CZ, a.s.
Regional Authority of the Hradec Králové region
Regional Authority of the Karlovy Vary region
Regional Authority of the Olomouc Region
Regional Authority of the Pardubice region
Regional Authority of the Moravian-Silesian region
Ministry for regional development of the Czech republic

Office for State Representation in Property Matters

Office for Personal Data Protection

Statutory City of Přerov
Companies within the Tessela holding
University Hospital Královské Vinohrady
University Hospital Olomouc
Technology used in FaMa+ EAI
HTML5 and Javascript
MS BizTalk Server
MS SQL Server / ORACLE
ASP.NET Web API 2 (REST API), Swagger documentation
WCF (SOAP API)
FaMa+ EAI product material
Ing. Michal Tesařík, MBA
tel: +420 724 444 451
tescosw(zav)tescosw.cz
tř. Kosmonautů 1288/1, Olomouc
tel. 587333405
www.tescosw.cz 
General licence terms
General terms and conditions
Privacy policy