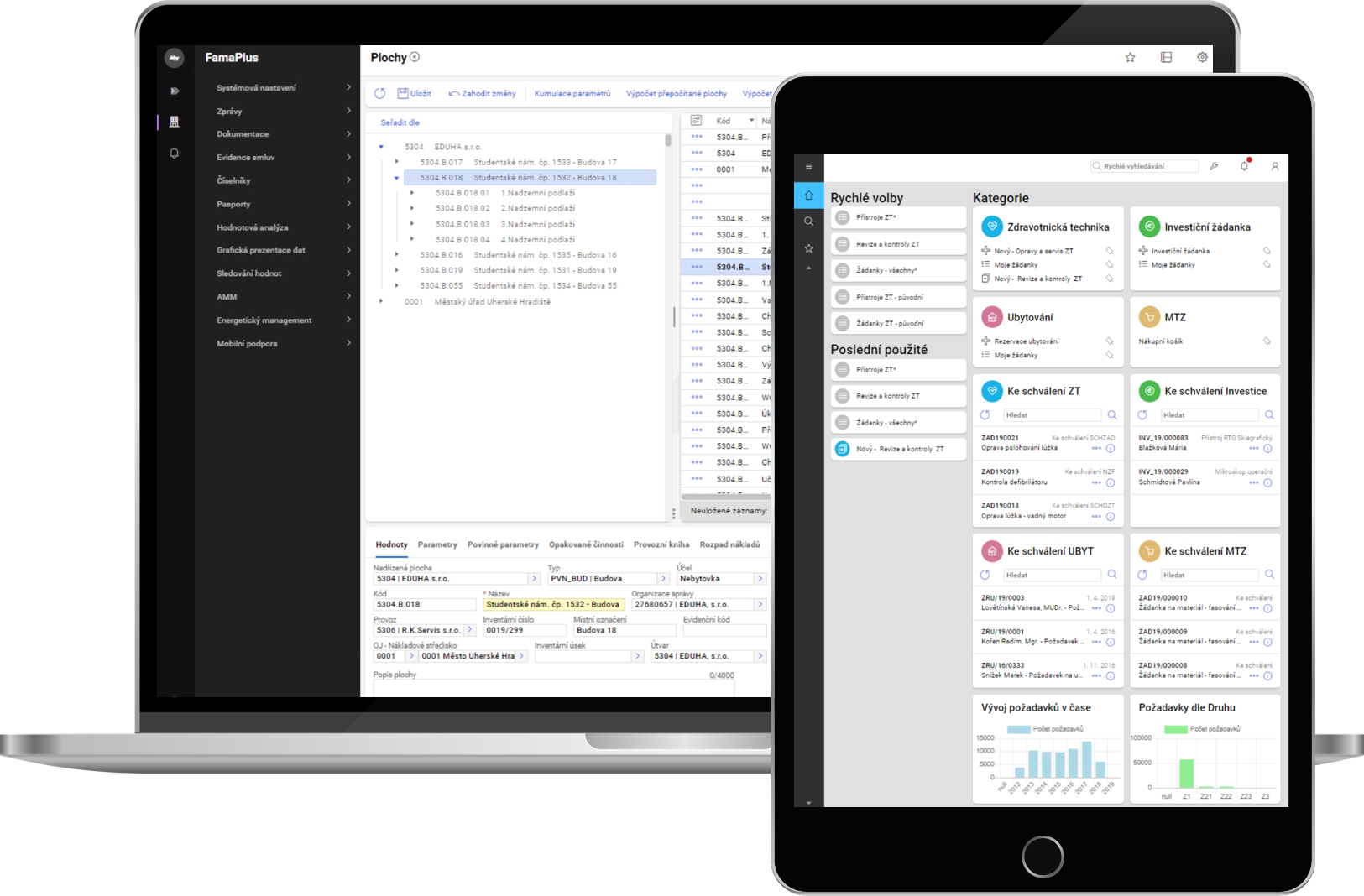 IT service management FaMa+ ITSM
Product FAMA+ ITSM provides a robust and yet modular solution for management of any services (IT, maintenance, operation, etc.) The processes of ITIL v3 are the basic building block of the solution, but thanks to its generality and universality, the solution is being deployed not only in the IT segment, but it also covers the processes of the public authorities and private sector. ITSM can be very effectively combined with a portal solution, thus gaining an effective and easy-to-use web add-on for a wide range of users.
Functional properties of module Request management:
A simple and easy-to-use tool to gain an overview of the requests and related information.
An option to communicate with providers of services and their implementers.
For each situation, it is possible to implement specific forms and a process, set communication tools and notification messages.
The module can be implemented for the entry of requests via various available channels  (e.g. through a generic Web form client in the application itself, email, phone, etc.).
On-premise software supporting comprehensive management and maintenance of buildings and technologies, administration of lease relations, repairs & reconstructions works and related services.
Information system supporting prediction, monitoring and evaluation of consumption costs for all energy kinds with the goal to efficiently manage energy resources and gain cost savings.
Management of public assets
Information systems tailored to fit the needs of public institutions in comprehensive management of the entire life cycle of assets with the aim of achieving greater efficiency, cost savings and transparency in its management.
Modular solutions to ensure comprehensive management of technical and operational support processes in hospitals and other healthcare intitutions.
Process and data integration
Solutions for internal and external data and process integration of standalone information systems.
Financial and acounting agendas
Information system for administering finance and accounting within the organization.
Regional Authority of the Olomouc Region
Statutory city of Prerov
Vinohrady Teaching Hospital
Czech National Bank
Centre for Regional Development
The Office for Personal Data Protection
Architecture of FaMa+ ITSM is designed as three tier, when individual levels are mutually integrated into functional whole:
presentation layer: MS Silverlight
database layer: Oracle or MS SQL Server
application layer: MS. NET
Ing. Michal Tesařík, MBA
tel: +420 724 444 451
tescosw(zav)tescosw.cz
tř. Kosmonautů 1288/1, Olomouc
tel. 587333405
www.tescosw.cz 
General licence terms
General terms and conditions
Privacy policy